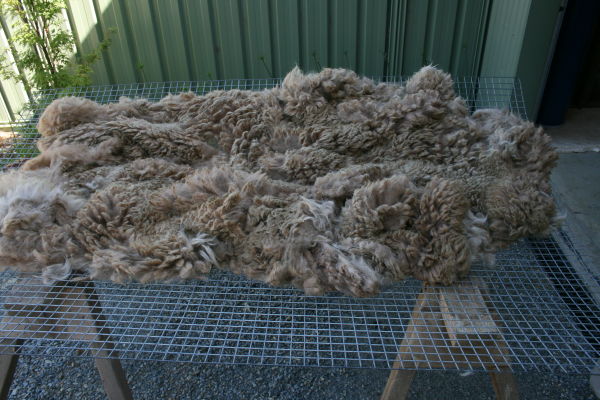 How to Prepare your Fleece
Download Fleece Processing Request form

The average loss for Alpaca during processing is about 20-30%
To maximise your return we suggest you prepare your fleeces in the following way.
The ideal length for processing is between 75-150mm (3-6 inches) for Huacaya and between 100-150mm (4-6 inches) for Suri.



Spread out the fleece onto a skirting table or a wire screen and remove any coarse and dirty fibres. Also remove as much of the vegetable matter as possible. Shake it vigorously so any sand and dirt and second cuts fall through. Do not worry about keeping the staples together, the more it is broken up the cleaner it will be.



Check that it is not tender. If a staple breaks with a quick tug the loss will be greater than normal.



Although we can process any micron, the higher the micron the harsher the feel of the final product.



Any fleeces that contain burr or show signs of moth or insect damage will not be accepted.


SPECIAL NOTES


The Dehairer seperates the course and short fibres and vegetable matter from the rest of the fleece. It stands to reason the courser a fleece is, or it has a low comfort factor, or it contains fibre that could have been removed by hand skirting, the more that will be lost in this processing cycle.



The machines only remove approx 80% of the vegetable matter and even less on really fine fleeces. First fleeces with cria tips are particulary hard to remove the VM from. Fleeces that contain a lot of VM may have some left in the finished yarn which can be removed as it is being used.



Remember the more you prepare and clean you fleece of vegetable matter, short and course fibres, the more return and higher quality product you will receive back.